Group Ride
2012-01-25
Here I am in Adelaide again ...
Daryl Perkins and I drove over to Adelaide on Tuesday morning, in the Cycling Victoria bongo van (full of bikes and bits) - we're over here as part of the Victorian team for the Australian Track Titles. I'm assisting Hilts with the sprint group again.
Yesterday we got off to a rather surreal beginning - the under 19's who want a place in the team to go to the Junior Worlds had a standing lap (250m) trial to do in the evening. We had Caitlin, Emerson and Jacob doing it, and oddly, only two other riders, one girl from WA and one boy from SA. So here we are at the Superdrome, almost completely empty, with three gee'd up sprinters and almost no-one else there except a bunch of CA people and selectors for the national team. Bizarre ... Anyway, that's done now.
Today the racing starts for real, we start with the girls doing the team sprint, which we have two teams in (J19 and senior), and the mens and J19 time trial (kilo) - our 19's aren't doing the kilo because they also do flying 200's today, and a kilo, followed by a flying 200? Uhuh .. No ..
I'm pretty excited to be here again as a small part of this team, it's another great opportunity to learn and hopefully contribute towards the success of the guys racing.
Some of you will be suprised, but I brought my roady, and we take the guys for a VERY EASY morning ride to just loosen their legs up a bit, and I've been riding with them. Road rides! Ha! Someone has to keep them going slowly, and that's my job. Good-o - but I am going to come back to Melbourne with a roady tan. Do not be alarmed!
2009-11-22
A quick report from our Hotham trip
In a word .. Wet!
It rained. Lots.
After a week in Melbourne of high 30's (in November?!) the forecast for the brave souls heading to Hotham for the aboc Climbing Camp was cooler and some rain. The
BoM, masters of understatement, got that right.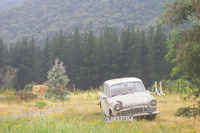 It started raining on Friday afternoon and didn't stop much all weekend. That didn't deter the crew. Some elected to ride the safer drop to Omeo and back, Don Noble doing the full trip with Rich and Alex Vaughan going part-way with him, and the rest decided to go to Bright, some descending the Harrierville drop in cars, others riding down. A very cautious descent even by Neil meant no crashes.
Jim Crumpler elected to ride straight back up from Harrietville and kindly lent his car to me to use as a safety/sag/shopping truck.

Some of the lads hooked up with some other cyclists and we had two bunches into Bright from Harrietville, Neil and Andy with the strangers, Hari, Jason Kennedy, Ash Milne and Jason Ellis in the main group. Sprints were contested in both, although Neil's first win was unopposed.
From there a number of sprints were had at the traditional town signs of Smoko, Freeburgh and Bright.
Carmen met up with us at Bright for lunch as she and Jon and Susan had been late up on Friday and had stayed at Benalla on the way up. She rode a solid ride, managing the climb on a 23 tooth sprocket with no dramas at all, even nursing a mild hangover.
As the only female to ride this time, she was the unopposed Queen of the Mountain.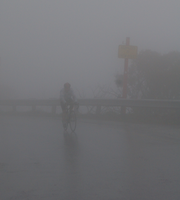 The weather for the ride down had been mild, no rain after around 10am made the descent less tricky than we'd feared at first, but that all changed after lunch. Light intermittent drizzle changed to rain. Solid, steady rain. Just what we need in drought-stricken Victoria of course, but sub-optimal for riding the big hill. No-one piked out, Hotham from Harrietville isn't a dangerous climb in the wet, even with poor visibility and everyone took off from Harrietville in good spirits despite the report from Alex Vaughan at the top that it was 'cold, wet, blowing a gale and horrible' at the top. Alex wasn't wrong, but these riders are made of sterner stuff than that which would be deterred by such a warning. Onwards and upwards!
On the way up a tree had come down over the road and I stopped at it and directed traffic around it until the Vicroads crew came and tidied it up so I missed a lot of photo opportunities, but did tail Jason Kennedy up the hill. It was his first Hotham ascent and he rode with wisdom and a solid tempo. All of us who've ridden up this monster hill will know the feeling that's best described in a photo.
Jase Ellis was the lantern Rouge for the climb from Harrietville, Andy Dorman took KoM with style.
Dinner was the usual spag boll and fruitcake with custard desert. The garlic bread was wolfed down pretty quickly, but we must warn you, the chilli bolla is HOT. We're not joking. As usual we'd made four mixes of bolla sauce, and the hot one was challenging. We did warn you!
On Sunday the weather was even worse and everyone packed up and left before 12, even our traditional Dinner Plain breakfast wasn't attempted. Despite the weather everyone reports to me that they had a good time and will be back for the next trip. What will it be like in February or March?
For the photo gallery for this trip, click here.