Hotham, 13th ...
My 13th ride up Hotham, it keeps getting steeper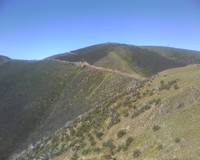 I think it's my 13th climb anyway ... I've done it at least once every climbing camp (8 so far), once before then with Jim Crumper many moons ago, and a couple of the climbing camps I've done it twice. This was my worst time (3:30 something!) - but given my preparation, which for the last 6 months has been sprint strength training and naff-all endurance, getting up the beast at all makes me pretty satisfied. Shane 'teh Llama' Millar got KoM with a 1:27 or so (and he won all the sprints on the way to Bright too! Argh!), Andrew (Ess) did a great time for his first attempt (1:31 I think?) and Karen Wiggins got QoM, and young Jamie is hooked on the hill! Everyone made it up who set out to do so and everyone who went achieved their goals for the w'end. No crashes, no injuries, very positive feedback from everyone who came.
We had a small turnout for this camp, 14 riders took it on this time after a few late cancellations, which meant we had lots of room in the lodge and no-one complained about snoring. The weather was perfect. No rain, not much in the way of wind, but not baking hot either. We put an esky in the shade behind the tollbooth this time loaded with drinks so riders on the way up could get more to drink (and cold drinks with ice! Excellent!) before the hellish part of the climb begins. This was a success and we'll be doing it again.
Neil and his chums made it a bit harder for themselves, they went up Buffalo on Saturday for a 180km two summit day out. They all made it back for dinner, and were well and trully trashed! Where was Byron?!
My experiment to see if it was possible to roll from the tollbooth all the way to Harrietville was inconclusive. I didn't manage to roll all the way, having to pedal on 4 occasions, mostly for only 10m or so, but in one instance for about 50m, but I think a rider who didn't stop at the tollbooth would have got over the first few and maybe the longer bit also, especially if they were drafting. The power chart from the PowerTap is quite amusing at least!
I'll be doing a full writeup in the next couple of days. For now some photos are mixed in here.
Also be sure to check out the Llama's blog entry about it, and don't skimp on his photos.