DUCCs deferred
The first of the DUCC sessions was rained out!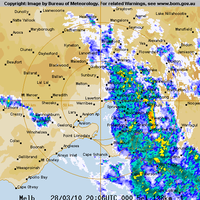 The picture tells the story. This morning was to be the first of the DUCC skills sessions for 2010.
At 11pm yesterday we weren't sure, but by 7am today, we were, and it's been deferred 'til the first Monday after Easter.
C'est la Vie! Rain is good ... We need more rain ...
Hotham was great, we had perfect conditions for it and a really good group of people. No cliques, no tupperware parties disguised as seminars and everyone said they'll be back for more in November. Excellent!